By integrating SecureW2's onboarding and PKI solutions with Cambium networks, your organization can effectively implement a robust, certificate-based 802.1xnetwork. Certificates negate the threat from over-the-air credential theft and ensure that only approved users can access the network. SecureW2 guarantees that a user cannot delete or transfer their certificate from their device. Your users will also be spared from password disconnect policies that require them to reconnect every network device. The costs in support tickets and wasted time is spared as certificates are configured once and set for life.
When enrolling users to the network, utilizing onboarding software is essentially a requirement if you want to maintain the security benefits you expect. Allowing manual configuration is a fast track towards misconfiguration, which can be detrimental to network security.
SecureW2's onboarding software allows users to self-configure in minutes by completing a couple simple steps. Once complete, they are automatically authenticated to the secure network for the life of the certificate.
The below guide demonstrates the process of integrating SecureW2's onboarding solution with Cambium networks. As a high-level overview, here are the basic steps to integrate:
Configure SecureW2's PKI Services

Configuring and managing a PKI is not a simple task, so SecureW2 provides a cloud PKI to streamline the process. Our turnkey PKI services includes all the necessary tools to secure and distribute certificates to network users.

Configure a Secure SSID as a WPA2-Enterprise EAP-TLS network

Configuring and managing a WPA2-Enterprise EAP-TLS network is no easy task. SecureW2's configuration guide simplifies the process so you can set up the network in hours instead of days.

Add the SecureW2 RADIUS Server to the Secure SSID

SecureW2's certificate solutions integrate with all major RADIUS vendors, but our Cloud RADIUS is perfect for those that do not want to manage additional infrastructure. In addition to RADIUS, SecureW2 can provide all necessary tools to implement certificate-based authentication (PKI, CRL, Certificate Authorities, Management Software, and more).

Configure the Onboarding SSID and Landing Page

To navigate users to the onboarding software, a common solution is the use of an onboarding SSID. Once connected, users will be redirected to a customizable landing page that guides them through onboarding software.
To complete this setup, you need to have already configured:
A SecureW2 Network Profile
Cambium Networks Access Points and controller
Creating an EAP-TLS Network Profile
Login to the SecureW2 Management Portal
Click Getting Started under Device Onboarding
For the Profile Type, select Wireless
Enter a name in the SSID field
For the Security Type, select WPA2-Enterprise
For the EAP Method, select EAP-TLS
For the Policy, select DEFAULT
Click Create, and the EAP-TLS Network Profile is added to the Network Profiles list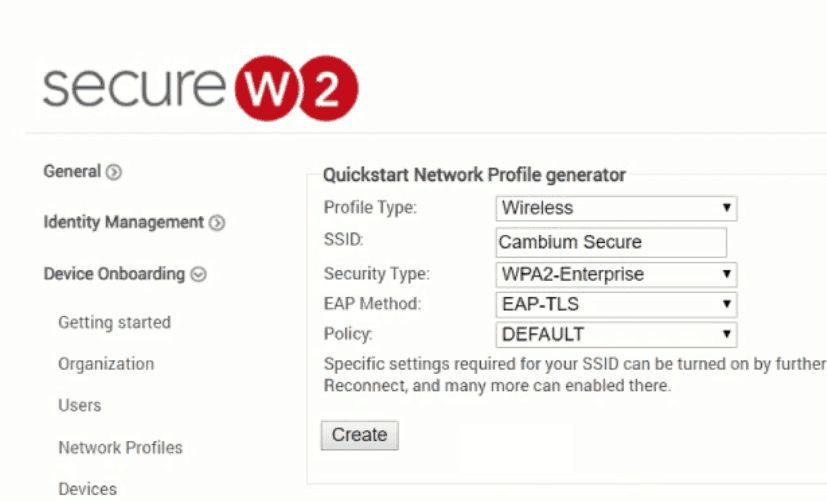 Creating an SSID
Login to cnMaestro (Cambium Networks Wireless Network Manager)
Click New WLAN
Create a new WLAN using the same SSID Name as early created for the SecureW2 Network Profile
The new SSID gets added to the WLANs list as shown in the screenshot below

Configuring the SSID to Authenticate with 802.1x
Click the name of the newly created SSID under WLANs in the earlier section and the following screen will appear
<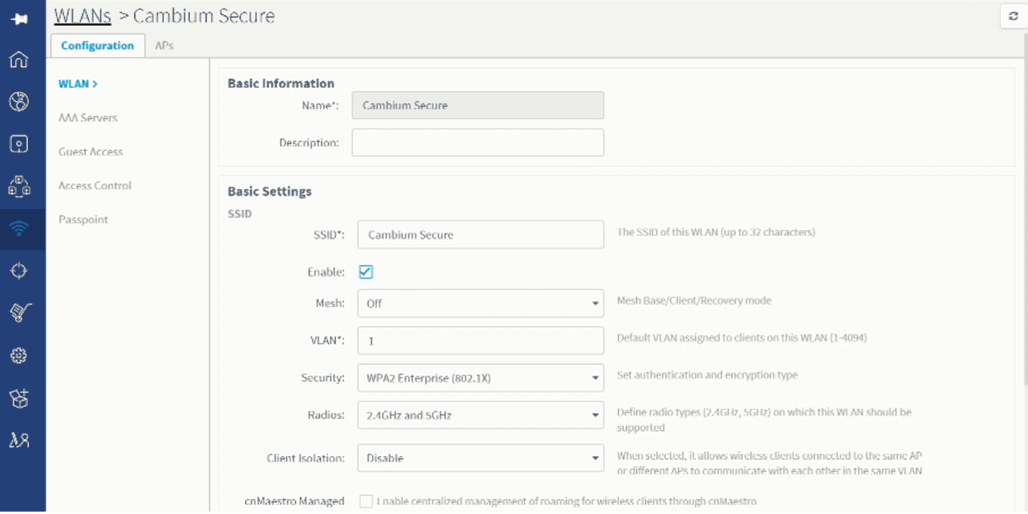 Navigate to Configurations > WLANs > Basic Settings
Select WPA2-Enterprise (802.1x) from the Security drop-down list
Adding the SecureW2 Cloud RADIUS Server to Cambium
Click Configurations > AAA Servers
In the SecureW2 Management Portal, navigate to and click AAA Configuration under AAA Management
Copy the Primary IP Address, Shared Secret, and Port and paste them in the 1. Host, Secret, and Port fields, respectively
Navigate back to the SecureW2 Management Portal and copy the Secondary IP Address, Shared Secret, and Port and paste them in the 2. Host, Secret, and Port fields, respectively
Click Save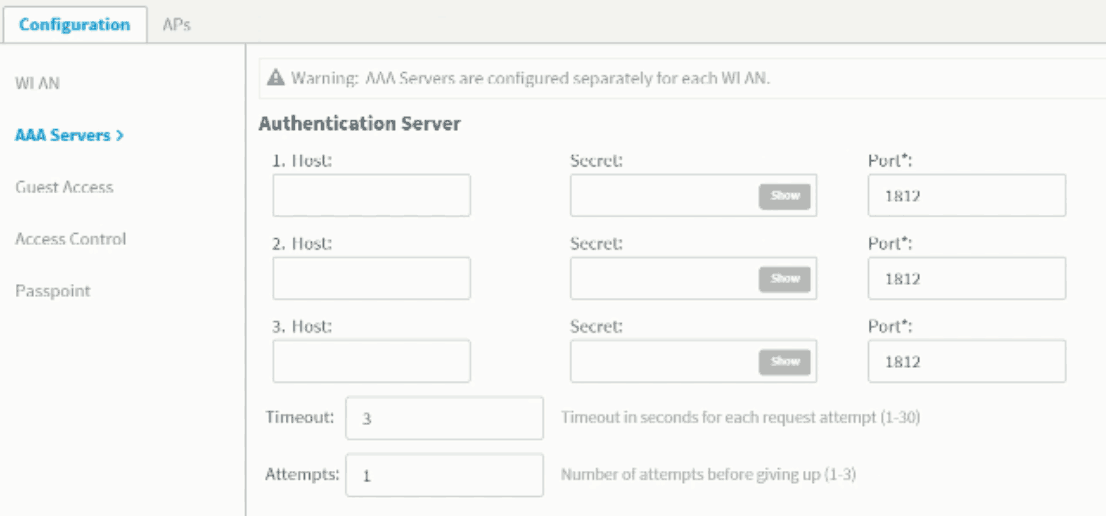 Onboarding Devices for WPA2-Enterprise
Click the name of the open SSID under WLANs in cnMaestro
Navigate to Configurations > WLANs > Basic Settings
Select Open from the Security drop-down list
Navigate to Configurations > WLANs > Guest Access
Under Whitelist, in the IP Address/Domain Name section, enter in the names that you want to permit in the walled garden and click Add
Click Save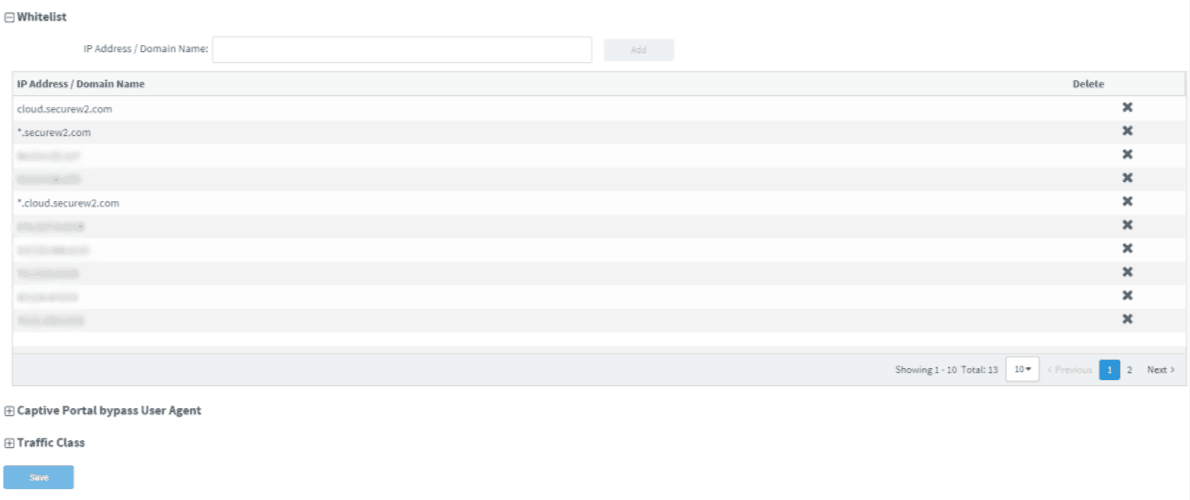 Configuring Redirect to SecureW2 Landing Page
Navigate to Configurations > WLANs > Guest Access
Click View on the Network Profile configured earlier and paste it in the External Page URL field
Click Save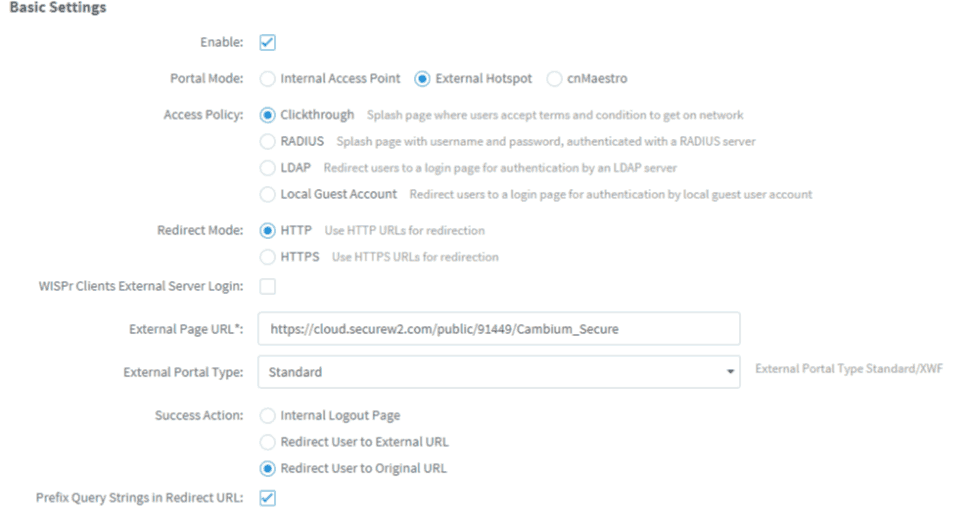 Concluding Thoughts
By clicking Save, the Cambium APs and controller have been successfully configured for a WPA2-Enterprise network with EAP-TLS authentication. Users can easily use the onboarding software to enroll for certificates and avoid disconnects from password-expiration policies. Also, without passwords, the network is protected from credential leaks, Evil Twin Attacks, and MITM attacks. So if you'd like to try out SecureW2, or have any questions about how we integrate with Cambium Networks, drop us a line! If you're interested in talking to a Cambium expert for a free demo, click here. If you'd like more information about our pricing, click here.