Using SecureW2's WPA2-Enterprise Onboarding Software and PKI Services with your Extreme Networks Access Points can vastly improve network security, user experience, and significantly reduce the number of Wi-Fi-related support tickets received. It enables organization's to easily adopt certificate-based network authentication, and replace Wi-Fi passwords.
Credential-based authentication is vulnerable to over-the-air credential theft, and creates a really poor end user experience with the necessity of password-change policies.
SecureW2 streamlines 802.1x authentication management, which allows easier device monitoring for admin. End users can enroll for a certificate and self-configure their devices in minutes. Plus it's authenticated for as long as the certificate is valid, so end users don't have to reconfigure their devices every couple of months like they have to with passwords.
This guide will cover how to integrate SecureW2 with the Extreme Networks ECA, so organizations can easily support EAP-TLS certificate-based 802.1x authentication.
Tech Overview
Configuring SecureW2 PKI services

Deploying and maintaining a PKI isn't easy, that's why SecureW2 offers turnkey cloud-based PKI services to make it incredibly easy to support certificate-based authentication.

Configuring SecureW2's RADIUS to ECA

SecureW2's cloud-based RADIUS server can integrate with any software, doesn't require major overhaul, and is great for clients who don't want additional infrastructure.

SecureW2's PKI Services integrate with any RADIUS Server as well if you have existing infrastructure.

Configuring Secure SSID as WPA2-Enterprise EAP-TLS

Many have thought that EAP-TLS was too difficult to deploy. SecureW2 shows that not only does EAP-TLS credential-based authentication provide better network security, it can be set up in a matter of hours rather than days.

Configure ECA's Onboarding SSID

Once you've configured the settings, SecureW2 allows you to customize a landing page and SSID for devices to be properly onboarded and authenticated.
Prerequisites and Limitations
A SecureW2 Network Profile configured for EAP-TLS
An ExtremeCloud Appliance (ECA)
An Extreme Access Point compatible with ECA (this guide uses a AP3915i)
Integrating the SecureW2 Cloud RADIUS
From the left-hand side pane, navigate to ONBOARD > AAA
Under RADIUS Servers, click the Add button on the Default AAA Configuration page
Configure the following parameters for the SecureW2 RADIUS server

RADIUS Server IP address <SecureW2 RADIUS IP Address>
Authorization Client UDP Port <SecureW2 RADIUS Port>
Shared Secret <SecureW2 RADIUS Shared Secret>

Click on the Save button on the top right-hand side
This process needs to be repeated, so both the Primary and Secondary IP Addresses are added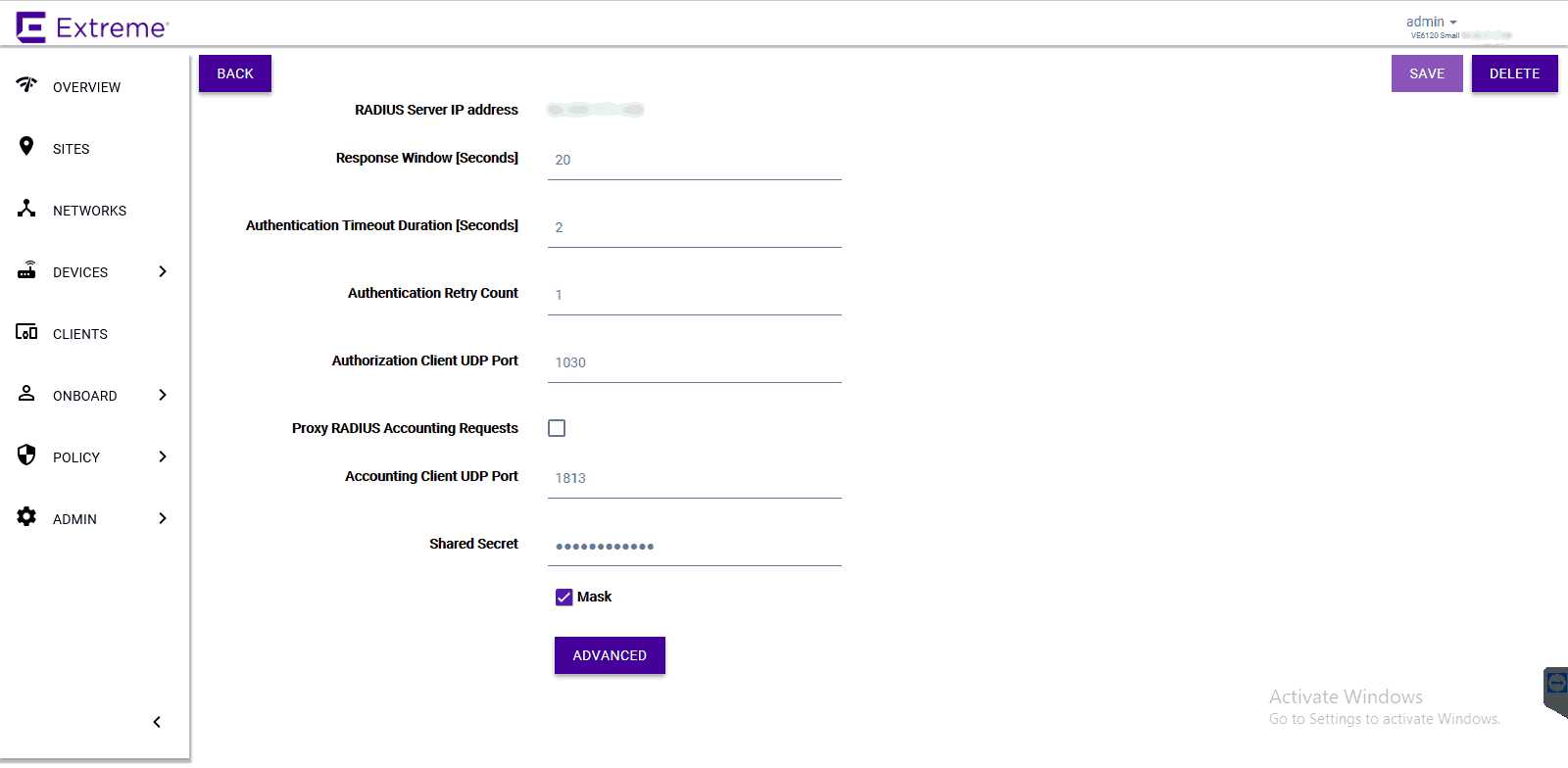 Creating an WPA2-Enterprise Onboarding SSID
Navigate to Networks > Add
Configure the following parameters:

Network Name – Example: Onboard
SSID – Enter a character string to identify the wireless network
Status – Enable the network service
Auth Type – Open
Enable Captive Portal – Check this option to enable captive portal support
Captive Portal Type – Select External
ECP URL – URL address of the SecureW2 network profile
Walled Garden Rules – Click Walled Garden Rules to configure policy rules for the external captive portal
Click on L3,L4 Rules (IP and Port) Rules(0 Rules) > New
Create entries to allow end-user devices to reach SecureW2 servers, Google Play Store, and for disabling CNA browsers

For a full list of resources to allow in the Walled Garden, please refer to the SecureW2 JoinNow Configuration Guide in the Management Portal

Click Save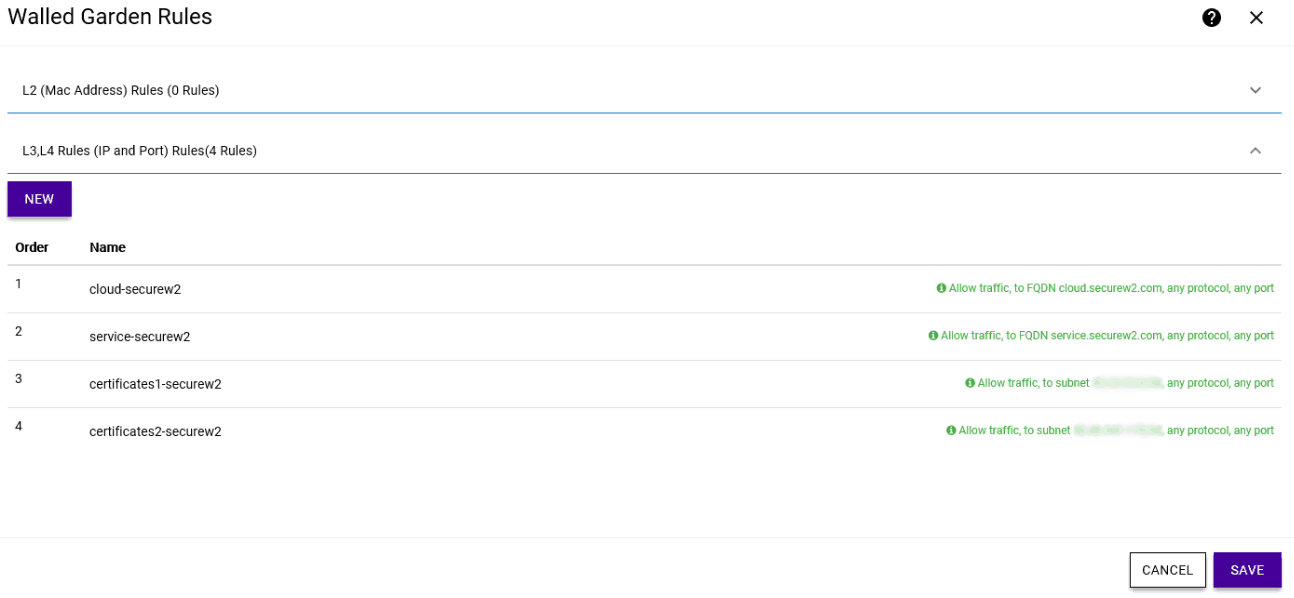 Configure the WPA2-Enterprise Secure SSID
Navigate to Networks > Add
Configure the following parameters:

Network Name – Example: SecureSSID
SSID – Enter a character string to identify the wireless network
Status – Enable the network service
Auth Type – WPA2 Enterprise w/ RADIUS
Authentication Method – RADIUS
Primary RADIUS – SecureW2 RADIUS IP Address added earlier
Backup RADIUS – Other SecureW2 RADIUS IP Address added earlier
Default Auth Role – Select Enterprise User
Default VLAN – Select a VLAN

Click Save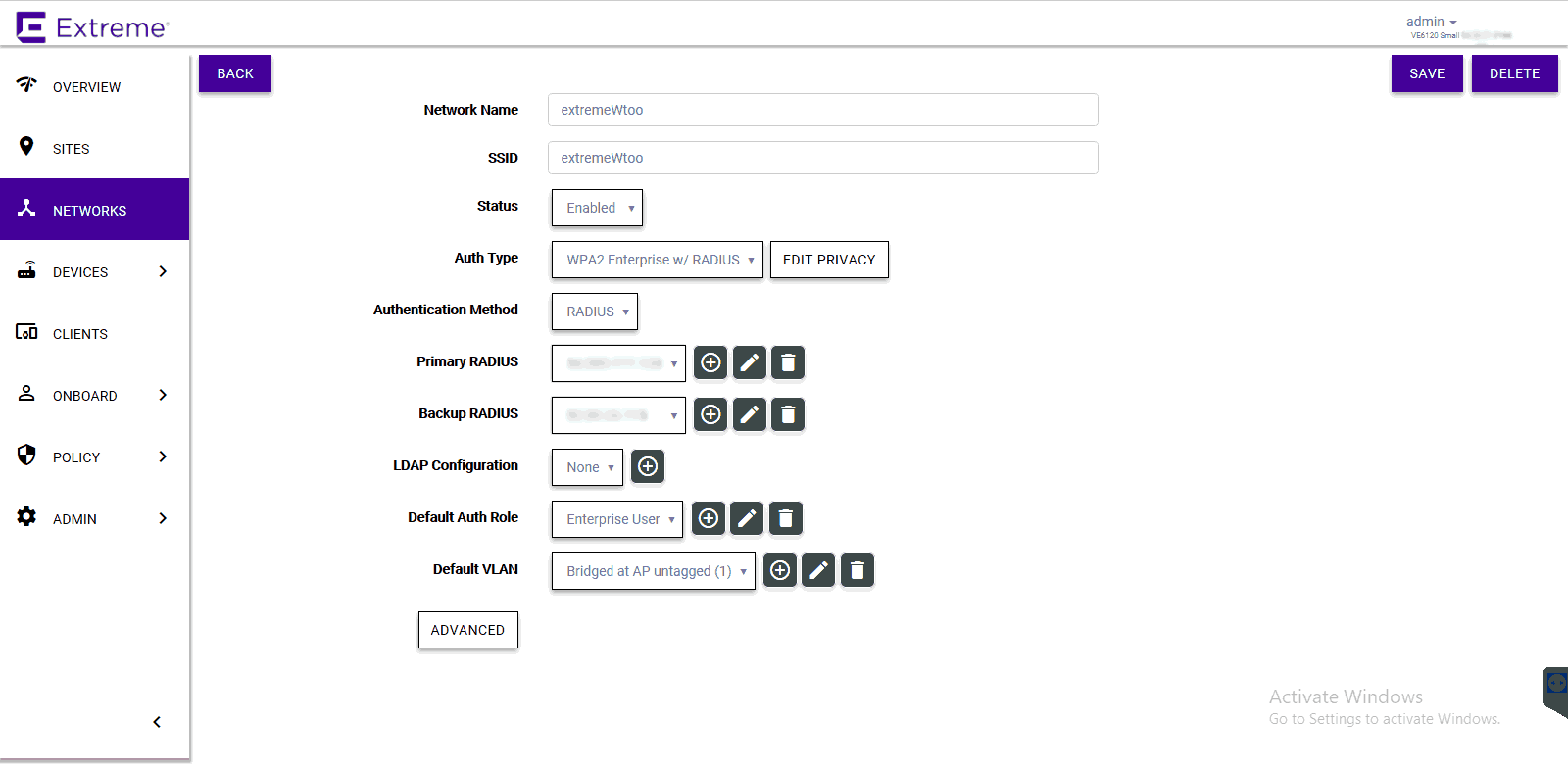 Assigning the Configured Networks to a Site
Go to the Sites tab and select the preferred site that is already configured
Click Configure Site
Click the Device Groups tab and select a device group
Click on the Profile field to edit the device group profile
Go to the Networks tab and select the configured network
Go to the Roles tab and select the previously configured roles
Click Ok > Save
Once that's finished, you're all set!
Ready to get started configuring your ECA for EAP-TLS? SecureW2 has affordable options for organizations of all shapes and sizes. Click here to check out our pricing form.