Implementing a certificate-based 802.1x network using the EAP-TLS authentication protocol may seem intimidating, but SecureW2's cloud-based solution allows you to easily transition from passwords to certificates with minimal changes needed to your infrastructure.
SecureW2's PKI services allows you to seamlessly setup certificate-based EAP-TLS network authentication, which far outweighs the security of credential-based authentication. Certificates eliminate over-the-air credential theft and password-related disconnects. No longer will the IT department have to worry about support tickets due to disconnects from password change policies, and hackers will no longer be able to farm network credentials over-the-air.
Since SecureW2 can work with any Wi-Fi infrastructure, integrating with Aerohive to set up EAP-TLS, certificate-based Wi-Fi authentication for 802.1x, has never been easier. Not only will security be immensely enhanced, but authentication management is more streamlined as you're able to discover any connection issues remotely using our best-in-class device onboarding software. The guide below shows how you can integrate Aerohive with SecureW2 in just a matter of hours.
Tech Overview
Configure SecureW2's PKI Services

Configuring and managing a PKI is not a simple task, so SecureW2 provides a cloud PKI to streamline the process. Our turnkey PKI services includes all the necessary tools to secure and distribute certificates to 802.1x network users.

Configure a Secure SSID as a WPA2-Enterprise EAP-TLS

Configuring and managing EAP-TLS was historically mislabeled as more work than it's worth. Today, SecureW2's PKI and Device Onboarding solutions simplify the process so you can set up the certificate-based authentication on your network in a few short hours.

Add the SecureW2 RADIUS Server to the Secure SSID

SecureW2's PKI Services integrate with all major RADIUS vendors, but our Cloud RADIUS is perfect for those that do not have the existing infrastructure.

Configure the Onboarding SSID and Landing Page

Users must navigate to the SecureW2 Onboarding Solution to have their devices enrolled and configured for certificates. A common solution is the use of an onboarding SSID. Once connected, users will be redirected to a customizable landing page that guides them through the onboarding process.
To complete this setup, you will need to have configured:
A SecureW2 RADIUS Server
A SecureW2 Network Profile
An Identity Provider
Configuring the WPA2-Enterprise Network Policy
In the Aerohive dashboard, click Configure > Network Policies > Edit (the edit symbol pertaining to the SecureW2 Policy)
Click the Wireless Networks tab and click Add > All other Networks (Standard)
In the Name (SSID) field and Broadcast Name field, enter a name for the network
In the SSID Usage section, ensure that Enterprise WPA/WPA2 802.1X is the selected SSID Authentication

Key Management should be set to WPA2-(WPA2 Enterprise)-802.1X
Encryption Method should be set to CCMP (AES)
Enable Captive Web Portal should be set to OFF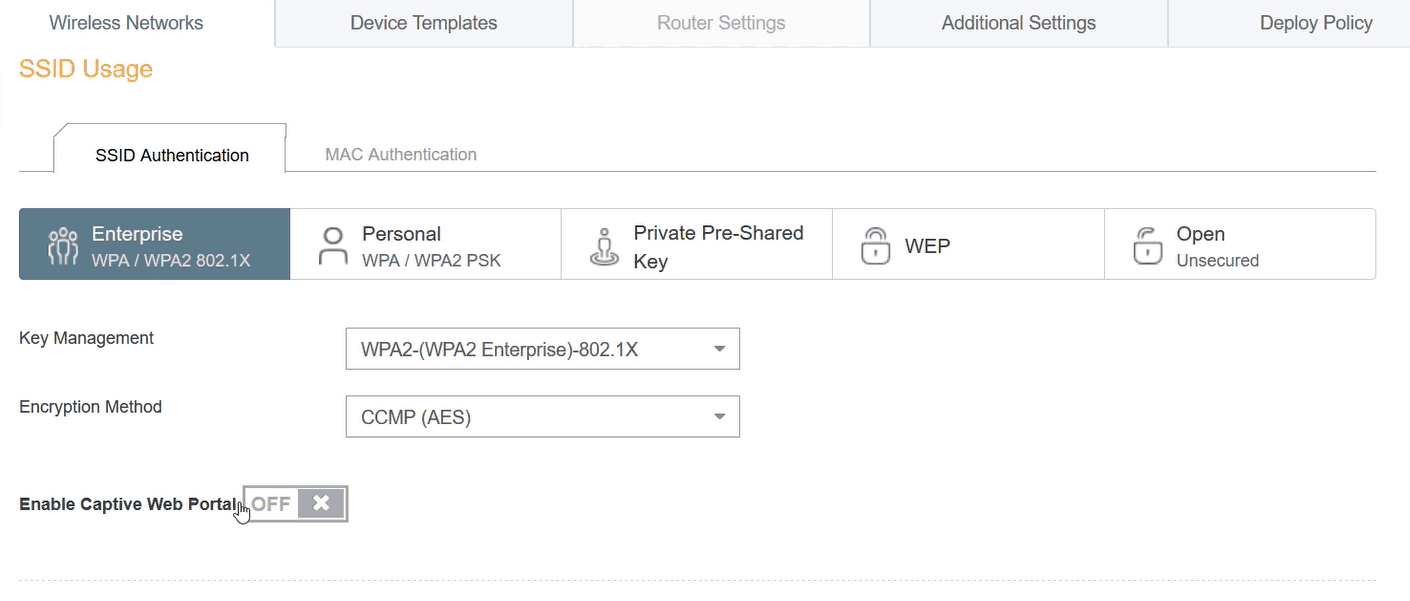 Integrating SecureW2's Cloud RADIUS with Aerohive
Next to Default RADIUS Server Group, click the + symbol to add a RADIUS server
Enter a Name (and Description, if desired), click Add, and select External RADIUS Server
Enter a Name

This is where we will connect the SecureW2 RADIUS

Navigate to the SecureW2 Management Portal and click AAA Configuration in the AAA Management Section
Copy the Primary IP Address and navigate back to the Aerohive dashboard where we were configuring the RADIUS
In the IP/Host Name field, click the + symbol and select IP Address
Enter a Name and paste the Primary IP Address into the IP Address field, and click Save IP
Navigate to the SecureW2 Management Portal and copy the Port, then paste the Port in the Authentication Port field

Ensure that the Authentication Port is checked and the Accounting Port is unchecked

Do the same for the Shared Secret in the SecureW2 Management Portal
Click Save External RADIUS, and you will be directed back to the Configure RADIUS Servers window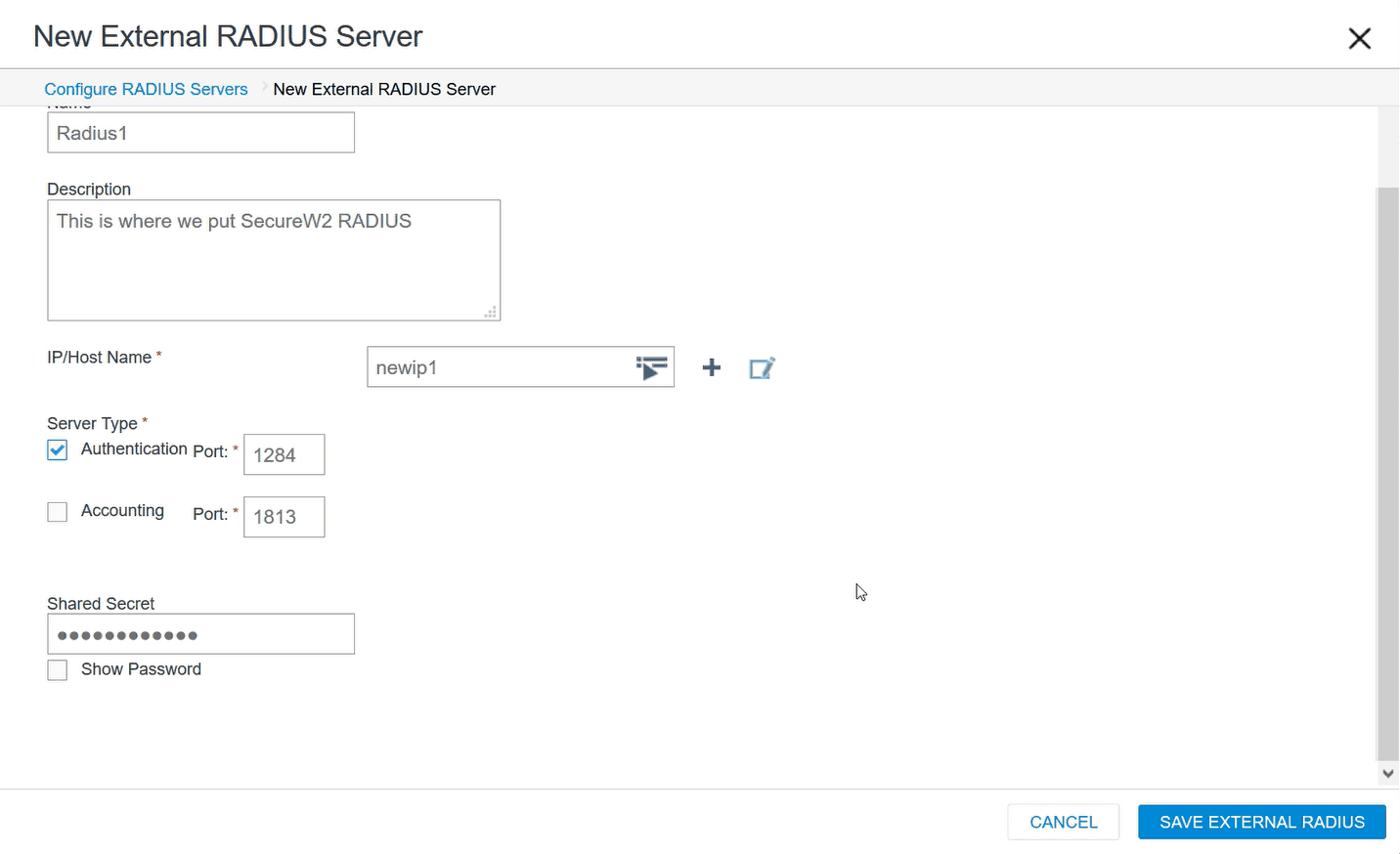 Click Add and select External RADIUS Server
Enter a new name in the Name field and we will repeat steps 4 thru 10, except instead of the Primary IP Address, copy and paste the Secondary IP Address
In the Configure RADIUS Servers window, click Save RADIUS

In the Authenticate via RADIUS Servers section, you will see both RADIUS servers that were configured

Click Save
Click the Deploy Policy tab and select the checkbox for the device listed and click Upload > Perform Update

Secure Your 802.1x Aerohive Network with EAP-TLS
Once completed, network users will be able to securely connect to a WPA2-Enterprise network. An organization's risk of credential leaks, MITM attacks, and Evil Twin attacks will drop dramatically with the security benefits of certificates. Network administrators will be able to remotely diagnose potential connection issues of users in the network, as well as increase visibility by tying a user and device to every network connection.
This setup for a certificated-based authentication network can be completed in as little as hours. If you'd like to try out SecureW2, or have any questions about how we integrate with Aerohive, drop us a line!
We have affordable solutions for organizations of all sizes. Check out our pricing page to see how you can bring your 802.1x WPA2-Enterprise network to the next level.